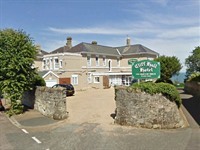 History of The Cliff Hall
The recorded data about the building starts circa 1868. The impressive building maintains an enviable position overlooking the Shanklin sea front and has an important local history. Originally called "The Cliff" the land was owned by the Wight Popham family. This famous local family owed a considerable amount of land in and around Shanklin, including the famous site of Shanklin Chine. The Wight Popham family are all buried in the local St Blasius Church. Their monumental inscriptions can be found in the Chance Wall within the church and date from 1735 to 1913.


It is believed that The Cliff Hall was built as a home for a Captain Thomas Harvey who married Mary Nunn Harvey and there is recorded evidence that it was their home until 1897. He was a member of Her Majesty's 69th regiment, nick named " the ups and downs" as per its regiments number that reads the same upside down.


Captain Thomas Harvey passed away in 1888 and was buried in Ryde and little is known about him. However ,Mary Nunn Harvey, became a famous Isle of Wight resident.


She died at her home, The Cliff, in October 1897 at the age of 62 yrs old. Her father was in the lace making business and came from Nottingham and when the family moved to the Island he opened a factory in what is now known as Broadlands House Stapler. He provided employment for a great number of the poor and has long been celebrated for the production of a very delicate and expensive fabric. His lace was imported throughout Europe and there are numerous examples of Henry Nunn's generosity and where the Nunn fortune contributed throughout the Island during and after his life.


Mrs Mary Nunn Harvey inherited a lot of money which allowed her to become a public benefactor for this lovely Island. She gave and paid for the building of St Michaels Church in Ryde and was involved, reportedly, in a lot of charity work. When the lace factory closed Mrs Mary Nunn opened it as a home for the elderly.


The building was once a Y.M.C.A, know as the Cliff Hall Y.M.C.A Holiday Centre and there is photographic evidence of this on the walls of our reception. It is believed the site has been a hotel for over 40 Years. Indeed it has been family run within our family for over 13 years and it offers quality guest accommodation and a stunning location.